Greece is a country full of ancient Greek history, considered the "cradle of Western civilization". Greek people are friendly, full of life and smiling all the time. It's surrounded by four seas (Aegean Sea, Ionian Sea, Mediterranean Sea and Cretan Sea) and it's known for its beautiful beaches with turquoise water, its mountain covered in mixed forests, the array of islands and the endless plantations of olives and vines.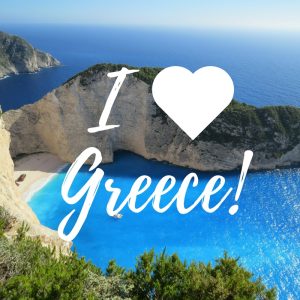 01. Greece and the ancient Greek history
Greece, also known as the Hellenic Republic or Hellas (in Ancient Greek), is a European country full of rich history and legends.
The earliest traces of Greek population date from the Paleolithic period (around 12.000 – 10.000 B.C.). You can find old manuscripts describing a rich country with flourishing settlements and a developed culture where literature, science, technology, and mathematics reached the highest peak of discoveries.
From that era, we have the Homeric legends and the archaeological sites to testify the greatness of Greece.
02. Greek people
The difference between Greek people and tourists is so great you can't miss it. While the tourists are always in a hurry to never miss a museum, an archaeological site or a lounge chair on the beach, the locals enjoy their coffee and some ouzo at a local tavern in the morning discussing the weather, politics or culture.
The "siesta" is an old tradition they are still keeping. During this time (between 2:00 and 5:00 PM) the shops are closed and the streets are deserted.
After sunset, the nightlife starts. The taverns and the restaurants are full of noise and Greek music, they talk and laugh, they sing and dance.
The Greeks know how to enjoy life.
03. The best Greek islands
There are around 6,000 Greek Islands and only 270 are inhabited.
The best islands in Greece in 2016, according to Trip Advisor, are:
Santorini – for the views;
Crete – for food and history;
Rhodes – for history and nightlife;
Mykonos – for hotels and nightlife;
Zakynthos – for its beautiful beaches;
Corfu – recommended for families;
Cephalonia – for history, culture, and wine;
Naxos – for ancient ruins and beaches;
Skiathos – pine forests and beaches;
Milos – for beaches and history.
04. Olives and vines in Greece
As far as you look you can see olive plantations. On the mainland and on the islands, everywhere.
Olive oil is a must in Greek cuisine. Mediterranean food is the best with fresh vegetables and greek olive oil.
Kalamata olives are the healthiest olives in the world, rich in monosaturated fats, iron, calcium, vitamin A, and fibers. You can find them only in Greece, in the Peloponnese Peninsula – the Kalamata region.
And the wine… Greek wines are divine, the nectar of Gods.
05. The most beautiful beaches in Greece
Navagio Beach (Zakynthos)
Porto Katsiki (Lefkada)
Myrtos Beach (Kefalonia)
Balos Beach (Crete)
Agios Prokopios Beach (Naxos)
I love Greece! It's as simple as that. I mean, what's there not to love about this country?
And here you can find another reason to love Greece.